detailed quote
To get a
FREE
detailed quote of your move click the button below and fill out our online Contents of House form.
detailed quote

CALL US TODAY!
0800 246 5622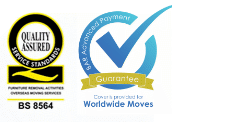 Removals to Linz Austria | UK to Austria Removals Service
Hamiltons Removals provide weekly removals to Linz Austria for all domestic and commercial moves. Our high quality Austria removals service can be tailored to your requirements and include packing, loading, transporting and unloading or just the movement of your belongings. We provide removal services to and from most European and International destinations.
Removals to Linz Austria - click here for more information on our UK to Austria removals service or click here for a free removals quote.
Hamiltons are a member of the trade association BAR (British Association of Removers), The Road Haulage Association and are BS EN ISO 9001:2000 registered.
About Linz Austria
Linz is another Austrian city full of period buildings. Not quite the size of Graz and a long way off Vienna, it has undergone something of a revitalisation of late. Through regeneration, modernisation and a surge in cultural activities, culminating in its being awarded the prestigious title of European Capital of Culture 2009, it has become Austria's 3rd largest city.
The cityscape and skyline of Linz features a number of Austria's foremost landmarks, among them are the 19th century spires of St Mary's Cathedral. Also known as the Cathedral of the Immaculate Conception this beautiful edifice, seating some 20,000 worshippers, was created in the French high gothic style and casts its inimitable shadow across the surrounding area.
Another very different landmark is the contemporary Brucknerhaus. This glass-clad waterfront entertainment centre with its huge concert halls plays host to many famous name bands and orchestral concerts. The waterfront development of the "Cultural Mile" has also undoubtedly helped put Linz on the visitors map and in recent years, it has gained quite a reputation in the world of culture and the performing arts.
Linz has, and is justly proud of, its industrial heritage but it is ahead, not backwards, that the city is looking. The Ars Electronica Centre with its virtual reality technology will take you on an unforgettable journey into the future.
Nicknamed "The Danube City" Linz lies mainly on the southern side of the river. It's central square, the Hauptplatz, is lined with cafes and restaurants, a number of which serve up the famous local speciality, Linzer Torte. A summer fruit filled lattice cake of ground almonds, sugar, butter, flour, and egg yolk that is enough to keep anyone coming back for more! When the sun shines, take an afternoon cruise along the Danube, or a trip to the city's botanical gardens.
Removals to Linz, Austria - please contact us now to discuss your move or click here for a free removals quote.