detailed quote
To get a
FREE
detailed quote of your move click the button below and fill out our online Contents of House form.
detailed quote

CALL US TODAY!
0800 246 5622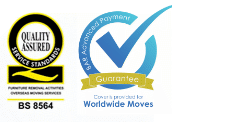 Removals to the Netherlands | Holland
Hamiltons' European removals department caters for all domestic moves to The Netherlands. Our weekly removals service to Holland can be tailored to suit your requirements and can include a full packing, loading, transporting and unloading service or just the moving of your belongings. We also provide professional cleaning services if you would like your old or new home thoroughly cleaned.

For corporate relocations and commercial moves, whether you are relocating headquarters or setting up a satellite office, we can quickly and efficiently arrange the transfer of your paperwork, furnishings and hardware.

We offer three types of removals to Holland / The Netherlands. These include our dedicated service, which affords you the sole use of a vehicle, our special service that allows you to dictate your collection and delivery dates and our part load or groupage service, which provides shared use of a vehicle for smaller loads. Please note delivery times cannot be guaranteed for our groupage service.

Relocating offices or moving home to Holland has never been easier. With cheap airfares and regular flights between England and The Netherlands, more and more people are choosing to commute between the two or to relocate permanently knowing that it is easy to return to visit family and friends. Based in Norfolk Hamiltons removals are located just over 50 miles from Harwich, facilitating a quick and easy transport of your home or business to your chosen destination in Holland.

Removals to The Netherlands/Holland - Click here for a free detailed quote of your move or contact us to discuss your individual requirements.

About The Netherlands/Holland

The land of windmills, waterways, clogs and flowers, Holland has always had something of a romantic feel to it. Historical archives are littered with the works of many great Dutch artists and not surprisingly, given the natural beauty of their surroundings, many of these artists were painters. From the landscapes of Anton Mauve to the portraits of Ary Scheffer, from the atmospherics of Rembrandt van Rijn to the cubism of Piet Mondrian and Piet Blom the country has nurtured and celebrated artistic talent for many centuries.

The latest in a long line of artists to come from this part of the world is Fiona Tan, a video artist who has recently been shown in the Tate, just one example of how Dutch artistry is moving with the times. The capital of Holland, Amsterdam plays host to the Amsterdam International Fashion Week that is now in its 12th year. It has firmly put Amsterdam and Holland on the map as one of Europe's foremost fashion capitals.

Art and fashion aside, Holland is a centre for trade and industry, exporting petroleum products, machinery and trade tools, fuel oils, scientific, medical & hospital equipment, dental & pharmaceutical preparations, industrial organic chemicals, nuclear fuel materials, other industrial machinery and wine.

Approximate distances from London to Holland's main towns and cities

Amsterdam – 223 miles
Rotterdam – 200 miles
Utrecht – 229 miles
Eindhoven – 241 miles
Tilburg – 226 miles
Groningen – 306 miles
Breda – 212 miles
Apeldoorn – 265 miles
Nijmegen – 258 miles
Enschede – 304 miles
Almere – 233 miles
Haarlem – 212 miles
Arnhem – 261 miles
Zaanstad – 221 miles
Amersfoort – 240 miles
Maastricht – 256 miles
Dordrecht – 207 miles
Leiden – 203 miles
Haarlemmermeer – 213 miles
Zoetermeer – 202 miles
Emmen – 311 miles
Zwolle – 273 miles
Amsterdam
One of the greatest small cities in the world, Amsterdam is well known for its canal system and its wide variety of small and interesting museums. There are around 60 in total, dealing with everything from houseboats to fluorescent art, not to mention Van Gogh and Rembrandt. Amsterdam has a big city culture and great nightlife together with good public transport and very little traffic. A popular mode of transport is the bicycle as Amsterdam and Holland in general, is quite flat.
Removals to Amsterdam – click here for a detailed quote.
Rotterdam
Rotterdam is a lively city benefiting from diverse architectures that span many decades. Rotterdam's population is quite young, brought down by the large student presence which has given the city a new lease of life. There is an energy here that attracts people from all over the world. Industry and commerce are alive and well too with the city boasting the busiest harbour in the whole of Europe and a thriving shipping industry.
Removals to Rotterdam – click here for a detailed quote
The Hague
The Hague or Den Haag as the Dutch call it, is Holland's third largest city and home to the Dutch Monarchy, the seat of the Dutch Government and the Supreme Court. The city looks and feels for all the world, like a capital city with its Embassy buildings, wide tree lined boulevards, statues and fountains, but it is not. That honour was bestowed upon Amsterdam some 200+ years ago.
Removals to The Hague – click here for a detailed quote.
Utrecht
The fourth largest Dutch city, Utrecht occupies a central position within the country and has become the transport hub of the nation. Many multinational companies have based their headquarters here and this has swelled the city's population to around 300,000. Utrecht offers a high standard of living and education within a very pleasant environment and as a result, it has attracted a highly skilled workforce as well as a large number of students.
Removals to Utrecht – Click here for a detailed quote.
Eindhoven
Once a small rather innocuous village, Eindhoven was transformed by the arrival of the Philips electronics company and whilst much of that organisation has since been relocated, its presence here is still great. The city is also home to one of Holland's greatest football teams; PSV Eindhoven; the De Tongelreep Swimming Paradise, with its water slides, rapids and wave machines, the Ice Sports Centre and the Frits Philips Concert Hall.
Removals to Eindhoven – click here for a detailed quote
Tilburg
Tilburg's population numbers some 200,000 making it the sixth largest city in Holland and it is probably the most cosmopolitan too. The city is peopled by nationals from across Europe and farther afield and the city's authority welcomes this diversity. Every conceivable amenity is available here from schools to colleges and quality healthcare. The many different cultures are well catered for and the wide open, flat green spaces lend themselves perfectly to bike rides.
Removals to Tilburg – click here for a detailed quote.
Removals to The Netherlands/Holland - Click here for a free detailed quote of your move or contact us to discuss your individual requirements.

Netherlands relocation guide – click here

Removals to Hague | Removals to Amsterdam | Removals to Rotterdam