detailed quote
To get a
FREE
detailed quote of your move click the button below and fill out our online Contents of House form.
detailed quote

CALL US TODAY!
0800 246 5622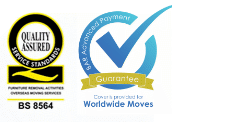 Removals to Germany | Moving House to Germany
Within our European department Hamiltons operate regular removals to Germany. We cater for domestic, corporate and commercial moves. If you are moving house to or from Germany, we offer you the choice of three different removal services - a dedicated service (sole use of vehicle), a special service (where the client specifies collection and delivery dates) or a part load/groupage service (where several loads are grouped together and share the same vehicle - please note delivery times for this service vary depending on how quickly consignments are consolidated).
Hamiltons can get involved with as little or as much of your removal as you wish. We can simply turn up on the moving day to transport your items and effects to your new home or we can undertake a full packing, moving and unpacking service. You can even use our Moving Maid Easy service to have your old or new home professionally cleaned.
Hamiltons National & International Removals are based in Norfolk UK. With the Port of Harwich being just over 50 miles away, we are ideally placed to assist you with removals to Europe, via ferry routes straight into the Hook of Holland. From there, our European road trains can travel directly into Germany.
Removals to Germany - Click here to read more about our removals to Germany service.
About Germany
Germany, officially called the Federal Republic of Germany, was a founding member of the EU and with over 82 million inhabitants it has the largest population among EU countries. Made up of sixteen states, the capital and largest city is Berlin, with a population of 4.3 million. Berlin is a modern vibrant city, well known for its historic associations as well as its many bars, clubs, restaurants and museums.
The world's third largest economy and leading exporter of goods in 2006, Germany's exports include a range of quality cars such as Mercedes Benz, Porsche and BMW, kitchen appliances from AEG, Blanco and Miele, pens from Montblanc and Nivea creams, to name but a few.

Great cuisine and fine wines, festivals, celebrations and inspiring architecture - Germany has it all - and is far removed from any clichés concerning lederhosen and sauerkraut. But the numerous visitors from abroad who are increasingly discovering Germany, already know this. Not just because of the wealth of cultural and historical sites, but also because of the wide- ranging regional cuisine and the variety of landscapes. In fact, although the Germans are the undisputed world champions when it comes to foreign travel, they still prefer to holiday between the North Sea and the Alps and who can blame them?
Approximate distances from London to Germany's main towns and cities
| | |
| --- | --- |
| Berlin | 650 miles |
| Bonn | 340 miles |
| Bremen | 490 miles |
| Cologne | 330 miles |
| Danube | 580 miles |
| Dresden | 690 miles |
| Dusseldorf | 330 miles |
| Elbe | 520 miles |
| Ems | 410 miles |
| Erfurt | 560 miles |
| Frankfurt | 450 miles |
| Fussen | 680 miles |
| Hamburg | 550 miles |
| Hannover | 480 miles |
| Havel | 660 miles |
| Heidelberg | 480 miles |
| Isar | 680 miles |
| Kiel | 600 miles |
| Leipzig | 640 miles |
| Magdeburg | 570 miles |
| Mannheim | 470 miles |
| Munich | 670 miles |
| Nurnberg | 580 miles |
| Rhine | 580 miles |
| Rostock | 660 miles |
| Saale | 620 miles |
| Schwerinn | 610 miles |
| Spree | 760 miles |
| Stuttgart | 540 miles |
| Ulm | 590 miles |
| Weser | 470 miles |
| Wiesbaden | 430 miles |
Berlin
Over the past century, the city of Berlin has seen huge changes both to its layout and its infrastructure. Once divided into East and West Berlin, the city is now united and prospers under its new regime, inviting tourists and business visitors to witness firsthand the rejuvenation of this once war torn city. Massive rebuilding programmes have resulted in an eclectic mix of architectures highlighting the differences between the designs of yesterday and today.
Removals to Berlin - click here for a detailed quote.
Hamburg
Hamburg is THE place to go shopping in Northern Germany. Its streets and malls are lined with everything from famous name brands to the more unusual fashion outlets. Head for the retail areas around the Alster - you won't be disappointed - and while you're there, take a walk around the lake itself. Some of the best real estate in Hamburg, if not Germany can be found in this area, so it's definitely worth a look!
Removals to Hamburg - click here for a detailed quote
Munich
Famed for its month long Oktoberfest, Munich is a must see for anyone who loves their beer, but there's more to the city than a few pints of lager. There are vast museums and art galleries of the highest standard and there are many beautiful churches too. Munich has its orchestras, ensembles, its opera houses and theatres and it is a popular stop off for major musical artistes. It is the entertainment hub of southeast Germany.
Removals to Munich - click here for a detailed quote.
Frankfurt
Straddling the River Main, Frankfurt is the largest city in the Hesse region and it is recognised as the financial hub of Germany. It is home to Germany's stock exchange and the Bundesbank. Popular among tourists for any number of reasons, it also plays host to many world class trade fairs. Each year Frankfurt's book fair brings in excess of a quarter of a million visitors to the city, each one eager to learn of the advances in media and communications.
Removals to Frankfurt - Click here for a detailed quote.
Essen
Essen is the largest city in the Ruhr district of Germany. During the Industrial Revolution, the city became the most important mining area in Europe but unlike many other important industrial cities, it did not fall into decline afterwards and remains today, a culturally surprising and  attractive city. Numerous green spaces exist around the city, particularly in the region of the popular Baldeneysee Lake and the beautifully landscaped Grugapark.

Removals to Essen - click here for a detailed quote
Dortmund
Dortmund is situated at the eastern edge of Germany's Ruhr district. It has strong roots in culture, leisure, and sport with football being played by children and adults alike, at one of the city's 140 clubs. Dortmund is a contemporary city - its principal museum, the Museum am Ostwall displays this perfectly. From a background in coal, steel and beer, new technologies are emerging like IT, logistics, communications and media, re-shaping Dortmund's corporate landscape.
Removals to Dortmund - click here for a detailed quote.
Moving House to Germany - find out more about what's involved in moving house to Germany in our relocation guide.
Removals to Germany | Germany Relocation Guide | Driving in Germany | Moving to Germany | Importing Vehicles to Germany | Moving to Berlin | Moving to Munich | Moving to Hamburg