detailed quote
To get a
FREE
detailed quote of your move click the button below and fill out our online Contents of House form.
detailed quote

CALL US TODAY!
0800 246 5622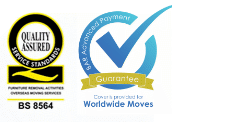 Removals to Vienna Austria | UK to Austria Removals Service
Hamiltons' European removals department provide weekly removals to Vienna Austria. Whether you require a domestic or commercial removals quote, we provide high quality removals to Austria that are tailored to your requirements. Our service can include full packing, loading, transporting and unloading or simply the transporting of your belongings. If required, we can also provide professional cleaning services.
Removals to Vienna Austria - click here for full information on our removals to Austria service or click here for a detailed quote of your move.
Hamiltons are a member of the trade association BAR (British Association of Removers), The Road Haulage Association and are BS EN ISO 9001:2000 registered.
About Vienna
The Capital City of Austria, Vienna is a city of music, art and culture. It's two million plus inhabitants make it the most populated of Austria's cities but it does not feel crowded. Rather its historic charm and appeal, and the beautiful River Danube that runs through the city, make it is an absolute delight for visitors from all around the world, who flock to wonder at the majesty of its buildings and the sheer beauty and romance that Vienna has to offer.
Music, art and culture abound here. Famous names from a bygone era live on and flourish under the banners of composer, artist and musician. These legends of yesteryear, amongst them such talents as Haydn, Mozart, Beethoven, Schubert, Strauss, Brahms and Schoenberg can be heard today as their classical tones drift with the early evening breeze, across wide open squares flanked by the magnificent buildings that tower over the coffee shops, trendy bars and bistros.
Must see sights on any trip to Vienna include St. Stephan's Cathedral where many of the aforementioned musical talents have performed and the Ringstrasse Boulevard. A tour of the 4km long Ringstrasse which encircles Vienna, will take in some of the finest architecture that this beautiful city has to offer including; the awe-inspiring Hofburg building, home to the Austrian Parliament, the State Opera House, the Museum of Fine Arts, the Urania, Vienna's first public observatory and the Vienna university among others. There are many parks and open green spaces to visit also, notably that offered by the Schloss Schönbrunn, a former residence of the Habsbergs, the Austrian Royal family.

Under the Habsburgs, Vienna became a cultural melting pot, a centre for business and for local immigration. Hungarians, Czechs, Poles and other ethnic groups from up and down the Danube arrived in the city, mixing business with pleasure and leaving their mark, creating today's cosmopolitan capital city and leaving in their wake, a collection of imported surnames.
Removals to Vienna, Austria - please contact us now to discuss your move or click here for a free removals quote.