detailed quote
To get a
FREE
detailed quote of your move click the button below and fill out our online Contents of House form.
detailed quote

CALL US TODAY!
0800 246 5622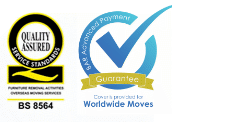 Moving House to New Zealand . Relocation to New Zealand . International Removals
If you are moving house to New Zealand, there is a lot more to consider than choosing an international removals service. Our relocation guide below provides additional information on choosing schools, working abroad, sorting your finances and more. Please note this information is believed to be accurate at the time of writing, but please check with our international removals department prior to your moving date.
International Removals to New Zealand – click here to read about our removals service.
Visa and work permits
New Zealand has a well-developed economy and a low unemployment rate. The country welcomes job applications from skilled professionals in other countries and currently has long-term skill shortages in a number of areas including specialised health professions, creative industries and electronics.
Foreign nationals wishing to work in New Zealand are required to obtain a work permit. Most types of work visa can only be obtained once you have an offer of work, and there are many web sites that you can search for New Zealand jobs online. Work permits are granted on a temporary resident basis.
Other visa types that provide permanent residency status include Skilled Worker visa, Business visa and Family visa.
A Skilled Worker visa is awarded to individuals who are highly skilled and will boost New Zealand's work force.
A Business visa can be awarded to an investor, entrepreneur or an employee of a relocating business. This visa category is designed to increase economic growth in New Zealand.
A Family visa will allow an existing New Zealand citizen or resident to sponsor their spouse, child, parents, siblings or an independent child to come and live in New Zealand.
Finances
It will make your transition to your new life much simpler if you open a New Zealand bank account prior to your move. An account can be set up from the UK with Bank of New Zealand, The National Bank of New Zealand or Westpac. Your new bank will assist you with transferring money and managing foreign currency and can provide financial advice and guidance on buying property and setting up a business.
Other specialist finance companies can help you to transfer your pension, arrange a mortgage for your new home and deal with the difference in taxes.
Schools
The New Zealand educational system is made up of state schools, integrated schools, private / independent and boarding schools. Some children are also taught at home.
The majority of New Zealand students attend state funded schools and every student has the right to enrol at the school nearest their home. These schools are funded by the government, and are co-educational at primary and intermediate level and co-educational or single sex at secondary level.
Private schools operate in a similar way to the UK in that each charges their own set of fees.
Integrated schools are schools that have a religious focus such as Roman Catholic. They are part government funded and also charge fees.
Healthcare
Healthcare in New Zealand is paid for through the general taxes, and consultations are either free or subsidised. Overall the standard of medical treatment is high. It is also possible to pay for private healthcare, and many New Zealander's opt for this to bypass long waiting times for non-urgent procedures. .
People moving to New Zealand are eligible for publicly funded healthcare provided that they are ordinarily resident in New Zealand. This means that the person must be a permanent resident or a work permit holder (and the work permit must be valid for two years at the time of issue). Providing these criteria are met, the healthcare covers their partner and children too if applicable.
To register for healthcare, you need to take your passport along to your local GP on arrival in New Zealand.
Moving your pet
Providing your pet is in good health it is fairly straightforward to take him or her with you. There are certain animals that are not allowed entry into NZ which include the following dogs: American Pit Bull Terriers, Dogo Argentinos, Japanese Tosas or Brazilian Filas and also pet birds, reptiles, snakes, ferrets, guinea pigs, mice and rats.
The specific requirements and regulations relating to importing your pet will depend on the type of animal you have, and the country you are travelling from. For more information see http://www.biosecurity.govt.nz/enter/personal/pets
Cats and dogs being imported from non-rabies affected countries such as the UK do not require a quarantine period, however there are other tests that they will have to undergo, including blood tests and micro-chipping. The pet owner is responsible for all applicable costs.
Your pet must be transported in an IATA approved container. To reduce the stress on your animal, it is a good idea to familiarise him or her with it for several weeks prior to departure. You can find out the cost of transporting your pet by contacting your airline.
Moving House to New Zealand – Contact us now to discuss your international removals requirements.