detailed quote
To get a
FREE
detailed quote of your move click the button below and fill out our online Contents of House form.
detailed quote

CALL US TODAY!
0800 246 5622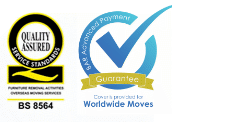 International Removals
Hamiltons offer first class international removals to and from Australia, New Zealand, Canada, USA, South Africa, Turkey, United Arab Emirates and Cyprus. With our many years of experience, we ensure that your move is carefully planned. Hamiltons offer three main international removal methods including full container loads, groupage and airfreight, which are then finely tuned to reflect your very individual needs:
FULL CONTAINER LOADS
This service provides you with sole use of a full container for your furniture and effects. The container can be carefully packed and loaded at your residence in the UK and then shipped directly to your property overseas.
GROUPAGE
For loads not requiring a full container, we offer a 'groupage' service which is where smaller consignments, destined for the same area, are consolidated together and share a container. We run a regular groupage service to all the main overseas destinations. Once the container has arrived in the given country, it is carefully unloaded at the appointed destination agents warehouse and then each consignment is delivered to residence.
AIRFREIGHT
This method is the fastest and is usually used for smaller consignments or items that are required immediately, ie documents, clothing and essentials.
CUSTOMS PAPERWORK
We can advise and provide you with all the necessary paperwork required by your chosen Country of destination, relieving you of some of the stress of relocating abroad.
International Removals - Click here for a free detailed quote of your move or contact us to discuss your individual requirements.