detailed quote
To get a
FREE
detailed quote of your move click the button below and fill out our online Contents of House form.
detailed quote

CALL US TODAY!
0800 246 5622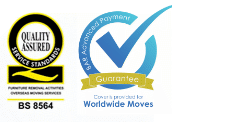 European Removals | Moving to Italy Helpful Guides
Moving to Rome Italy
Known as "The Eternal City", one of the first things a visitor will notice about Rome, aside from its busy streets and bustling walkways, is its architecture. Everything was built to last and it was built on a massive scale. The buildings in Rome, almost without exception, are very old and very large.
Read More...
Moving to Milan Italy
From the Duomo Cathedral to the San Siro Football Stadium, Milan's architecture is truly awe-inspiring. In fact it could be said that Milan is all about design. From the intricate buildings to the exquisite clothing, design is everywhere. Gothic, Renaissance, Baroque, Romantic, Contemporary and Futuristic - it's all here, as are their enthusiastic followers and practitioners.
Read More...
Moving to Naples Italy
Central Naples feels a little like its been squeezed into a limited space. Three principal roads, which are not wide themselves, are criss-crossed many many times, by smaller, narrower streets. Most of these are lined with old and characterful apartment buildings, which appear to be tied together with washing lines.
Read More..