detailed quote
To get a
FREE
detailed quote of your move click the button below and fill out our online Contents of House form.
detailed quote

CALL US TODAY!
0800 246 5622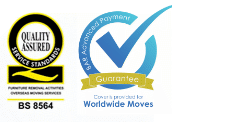 Removals to Naples Italy | Hamiltons European Department
Hamiltons European Removals Department can assist and advise on all aspects of your move to Naples, Italy. We can provide residential and commercial removal quotes to and from the UK, Italy and most European destinations, as well as specialist removals and the moving of vehicles.
Removals Italy - click here for full information on our removals to Italy service, or click here for an instant
European removals quote
.
About Naples
Central Naples feels a little like its been squeezed into a limited space. Three principal roads, which are not wide themselves, are criss-crossed many many times, by smaller, narrower streets. Most of these are lined with old and characterful apartment buildings, which appear to be tied together with washing lines.
There are very few pavements in Naples, Italy and those that there are, are usually parked on or used as market trader style pitches. This means that pedestrians, cyclists, motorbikes, cars and lorries, all tend to use the roads. This would be fine, except there are no traffic signs and no traffic lights in this part of the world! Somehow, however it is still fine. Life has gone on like this for decades and that's just the way the people of Naples like it.
Modern day Naples is a sprawling mass that is continuously widening as more new parts are added or assimilated. These newer parts of the city are not quite so compact and resemble, more closely, a typical suburban setting. It's rather hilly in parts and more so the closer you get to Mt Versuvius, Naples' active volcano.
Founded by the Greeks back in 7BC Naples was ruled by both the French and Spanish before being given over to the Italians. As a result, it is full to bursting with fascinating museums, wonderfully mixed architecture and grand old Churches.
Naples is one of the oldest and most beautiful cities in Italy and the birthplace of the original Pizza Margherita.
Removals to Naples, Italy
- Hamiltons specialise in removals to Italy and most other European destinations. We are a member of the trade association BAR (British Association of Removers), The Road Haulage Association and are BS EN ISO 9001:2000 registered.
Please contact us now
to discuss your move or click here for a
free removals quote