detailed quote
To get a
FREE
detailed quote of your move click the button below and fill out our online Contents of House form.
detailed quote

CALL US TODAY!
0800 246 5622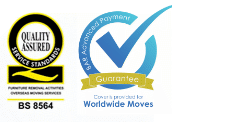 Removals to Johannesburg | Shipping to South Africa | International Removals
Hamiltons Removals provide removals to South Africa's largest city, Johannesburg for all domestic and commercial relocations. We carry out high quality shipping to South Africa which can be tailored to suit your specific requirements and include full packing, loading, transporting and unloading or just the movement of your belongings. Whether you require a 20ft or 40ft container, groupage services or airfreight, we provide professional and competitively priced removals to Johannesburg and other South African cities from the UK, from South Africa to the UK and between most other European and international destinations.
As well as arranging all necessary shipping to South Africa, Hamiltons can arrange a variety of other services on your behalf including insurance, storage and cleaning – whatever is necessary to make your removals to South Africa go smoothly. We'll even make sure you have all the necessary information and guidance regarding the customs regulations that apply when shipping to South Africa.
Johannesburg is an extremely popular destination for Brits emigrating to South Africa and has a lively and well connected expat community. Hamiltons therefore handle frequent requests for removals to South Africa and of course for return removals from UK to South Africa. As well as removals to Johannesburg, we carry out regular removals to all South Africa destinations including the major cities of Durban, Cape Town, Port Elizabeth and more.
Removals to South Africa – Click here for a free quote on our removals to South Africa service.
Hamiltons are a member of the BAR (British Association of Removers) trade association and the Road Haulage Association and we are BS EN ISO 9001:2000 registered.
About Johannesburg
ohaJohannesburg which is also known as "the city of gold" on account of the gold rush of the late 19th century is a city of huge contrasts. The divide between rich and poor is massive and immediately obvious. The first thing visitors will see as they get off the plane at OR Tambo International Airport or Joburg International, as it was known prior to 2006, is the glitz and glamour of designer products and duty free luxury goods. And for many, that is all they will see as they are whisked off to their pre-arranged destinations in their chauffeur driven, air conditioned Mercedes Benz limousines. But spend a little time here, venture outside and you're faced with another world, the world of the townships.


Had they looked out of their windows on approach, they would have seen them, vast tracts of land turned over to the townships of Soweto and Alexandra. Instantly recognisable due to their make shift, thrown together appearance, these places are home to hundreds of thousands of black Africans making the best of what can only be described as a hand to mouth existence. But making the best of it they are. Whilst it is not recommended that you venture into these places alone, visitors and tourists are invited into the townships for guided tours to see, at first hand, what life is like for these people. Many of them will, for a small fee, invite you into their homes to share a basic but quite tasty and nutritious meal of stew and mielie pap, a traditional porridge made from ground maize.


Outside of the townships, today's Johannesburg looks like any other large financial capital. It is a modern city of glass and steel, of skyscrapers and shopping malls. It is also an education hub and home to The Witwatersrand University, one of the leading educational establishments in South Africa with over 25,000 students. The Wits as it is known, is a fully functioning University with courses for under and post graduates, it also runs part time and evening courses and offers scholarships across a wide range of subjects.


Other places of interest in Jo'burg are the historic Johannesburg Zoo, with its lake and tree of light. The zoo and lake are located on the corner of Jan Smuts Avenue and West World Street. There is always something going on here and it is a favourite place amongst dog walkers, joggers and skateboarders. It is a clean and safe environment with restaurants, row boats and wide open spaces in which children are free to run and play. On the first weekend of every month, a popular art market known as 'artists under the sun' is held here, it is a real crowd puller attracting art buyers from near and far.


Perhaps the most interesting point to be made about the zoo and its lake is that they were gifted to the people of Johannesburg in 1904, long before apartheid, on condition that they were to be open to people of all races. Was there something slightly prophetic in this declaration of unity? South Africa's struggle with the concept of racial equality is further highlighted by the existence of two grand, open squares in Johannesburg, one named after Ghandi and the other after Mandela, both of whom were imprisoned in Johannesburg for speaking out on this issue.


The Tree of Light is another of Johannesburg's must sees. A tradition that turned 21 years old in 2010, the Hospice Witwatersrand Tree of Light, in Johannesburg Zoo is switched on every year, on the last Sunday evening in November and left illuminated for the whole of the festive period. For a donation of R250 (£21.40 at today's rate) you and/or your company can purchase a light globe, the proceeds of which go to home based care programmes and two in-patient units, one in Houghton and another in Soweto.


The shopping in Johannesburg leaves little to be desired. There is a wealth of upmarket fashion boutiques and giant malls as well as curiosity shops and street markets. If markets are your thing, you must visit Bruma Market World on Ernest Oppenheimer Avenue in Bruma, It is a maze of 600 plus stalls, open daily from 0930 to 1700 except Mondays. Other equally good markets include the African Craft Market, next to the Rosebank Mall on Cradock Avenue in Rosebank, Here live local bands will add to the market shopping experience which is made slightly different by the fact that you pay for your goods by credit/debit card at centralised pay stations. For that authentic hand made feel, pop along to Bryanston Organic Market in Bryanston, Sandton. It's a craft market in the true sense of the words. Everything is strictly handmade or organically produced. It is famous for tasty home bakes and a delicious range of homemade cheeses. A popular tea garden offers pies, pastries and pots of Rooibos tea. It is open Thursday to Saturday mornings, as well as for occasional moonlight markets which are held from 1700hrs to 2100hrs over the summer.

If shopping malls are more your cup of tea, there are newer and brighter and bigger ones cropping up all the time. At present the jewels in the shoppers crown are to be found at Eastgate, Rosebank, Fourways and Hyde Park Corner with designer fashion, jewellery and electronic goods available at Sandton City. For old book stores, go to Seventh Street and for antiques, visit Grant Avenue in Norwood. For arts and crafts produced by the locals and sold directly for their benefit, go to Art Africa in Tyrone Avenue, Parkview. They sell a range of African arts and crafts, often from recycled materials in self-help projects. The Giraffe Centre, Second Avenue, Melville also has a wide selection of craft shops, while the shop at the Moyo restaurant, at Zoo Lake in Parkview, has a wide range of colourful
Shipping to South Africa – Click here for a free detailed quote of your move.
Removals to South Africa – Click here for a free detailed quote of your move, or contact us to discuss your requirements.
South Africa removals customs information
Removals to Johannesburg | Removals to Durban | Removals to Cape Town