detailed quote
To get a
FREE
detailed quote of your move click the button below and fill out our online Contents of House form.
detailed quote

CALL US TODAY!
0800 246 5622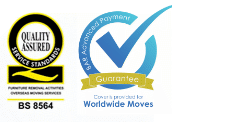 International Removals to South Africa . Relocation Guide . Moving House Overseas
If you are in the process of arranging removals to South Africa, there is a lot more to consider than choosing an international removals service. As well as arranging physical shipping to South Africa you will need to think about packing and unpacking, creating an inventory for customs, arranging insurance, storage or even cleaning. And if you have a pet, motor vehicle or other specialist items you may be wondering if and how these can be included in your removals to South Africa.
Hamiltons are experienced in arranging removals from the UK to South Africa and provide a broad range of associated services to make your move as easy and hassle free as possible. We can also advise on the rule and regulations affecting shipping to South Africa to help you decide what to take with you, as well as assisting you with the correct paperwork.
With your removals to South Africa well in hand you can then turn your thoughts to settling into a new life in your chosen country. Our relocation guide below provides additional information on choosing schools, working abroad, healthcare and more. Please note this information is believed to be accurate at the time of writing, but please check with our international removals department prior to your moving date.
Removals to South Africa – Click here to read about our removals to South Africa service.
Visas, Work Permits and Resident Permits
In order to live in South Africa you will require a visa, of which there are a number of different options available to you. Which you choose will depend on your personal circumstances.
A South African work permit will allow foreign nationals to immigrate to South Africa on a temporary basis to carry out work there. These are valid for twelve months but can be extended.
The employer most commonly carries out the work permit application, after they have offered the candidate a job. In these cases, the employer must demonstrate that they have tried to fill the position with a local citizen first.
Where an applicant possesses skills that are deemed to be in short supply it is possible for them to apply for a work permit without an offer of employment in place. In this case, the applicant must have five years of relevant experience, and on arrival in South Africa, must secure an offer of employment within ninety days. With this time restriction in mind, it is advisable to be highly familiar with the local job market and to have made at least some initial contact or application to test the water prior to arranging full-scale removals to South Africa. Another option is to place your goods into storage until such time as you have secured a position, and then arrange a date for shipping to South Africa.
Individuals with exceptional skills may also apply for a work permit. With these applications, the migrant must be able to prove their abilities and each case is assessed individually.
Another route to obtaining a work permit is the Intra Company Transfer or ICT. The ICT allows employees to transfer to South African branch or sister company and take up a specific, temporary position.
Applicants that have been in possession of a work permit for more than five years may apply for a permanent residence permit.
It is possible for foreign nationals to retire to South Africa, with a retirement visa or permit. This is allocated providing that the applicant can prove that their income is in excess of a certain amount. Retirement permits are valid for up to four years but can be renewed. In addition, permanent residency can be obtained if the candidate can demonstrate a net worth over a specific amount.
Immediate relatives of a South African permanent resident or citizen can apply for a family visa, which entitles them to emigrate, based entirely upon their family connections.
Finances
It is important to organise your finances before your removals to South Africa. Check whether your current bank has a dedicated expatriate division, or consider opening a new account with a South African bank such as the South African Reserve Bank, ABSA, Standard Bank, Nedbank or First National Bank.
Schools
The quality of schooling in South Africa varies widely. The range of schools available includes fully subsidised public schools, fee-charging public schools, private schools and boarding schools. Although a large amount of funding is made available by the government, more money is always needed to address the backlog left by 40 years of apartheid education. Schools differ in the amount of funding they receive and as a result, some state schools experience problems with overcrowding, low teacher to student ratios and inadequately trained staff.
Children can start school in grade 0 (the reception year) and attend through to grade 12, which is the year of matriculation. The compulsory grades are from 1 (at age seven) through to grade 9 (aged fifteen). Following grade 12, students can continue studying at higher education level, to obtain certificates, diplomas or degrees.
Health care
Health care in South Africa is expensive, and treatment must be paid for immediately. It is therefore highly advisable to set in place adequate health insurance prior to your departure to ensure that you are covered from day one. Medibroker is an independent insurance broker that can provide you with free quotes and advice to assist you in finding a policy that suits your needs. You may be best off with a policy that has been designed specifically for expatriate use.
In general the standard of health care is high, particularly in urban areas such as Johannesburg with a good number of private and public hospitals.
Whilst living in South Africa it is important to take precautions against Malaria and infectious diseases such as yellow fever, hepatitis A and B. Your doctor or pharmacist in the UK can advise you on anti-malarials and vaccines before you depart.
Moving your pet
It is possible to take your dog or cat with you when you move to South Africa from the UK. You will need to obtain an import permit, and ensure that the animal meets a number of strict requirements. These include having the animal micro chipped and vaccinated against rabies, and possibly checked for other diseases. If other checks are required, then the results of these must be noted on the Import Permit Veterinary Health Certificate with negative results. The animal must also have remained within the country of origin for at least six months prior to shipping to South Africa
Shipping to South Africa – Click here for a free detailed quote of your move.
Removals to South Africa – Click here for a free detailed quote of your move, or contact us to discuss your requirements.
South Africa removals customs information
Removals to Johannesburg | Removals to Durban | Removals to Cape Town