detailed quote
To get a
FREE
detailed quote of your move click the button below and fill out our online Contents of House form.
detailed quote

CALL US TODAY!
0800 246 5622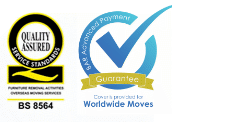 Removals to Auckland New Zealand | UK to NZ Removals Service
Hamiltons' international removals department provide regular removals to New Zealand including removals to Auckland, Wellington, Christchurch and more. Our competitively priced, high quality removals to New Zealand service caters for both domestic and commercial moves and can be fully tailored to your requirements. Whether you require packing, loading, transporting and unloading or simply the shipping of your furniture and effects, contact us now for a quote. If required, we can also provide professional cleaning services to help take the stress out of your move.
Removals to Auckland New Zealand - click here for full information on our removals to New Zealand service or click here to get a detailed quote for your move
Hamiltons are a member of the trade association BAR (British Association of Removers), The Road Haulage Association and are BS EN ISO 9001:2000 registered.
International Removals New Zealand
Amongst the many worldwide destinations for which we provide international removals, New Zealand is one of the most popular, along with Australia and South Africa. As well as organising frequent removals to New Zealand, we can also arrange removals from New Zealand to Australia or back to the UK, as required.
International Removals New Zealand - click here for full information on our removals to New Zealand service or click here to get a detailed quote for your move
Removals New Zealand to Australia
As well as the large number of Brits emigrating to New Zealand every year, there is a also free movement of New Zealanders moving to Australia, and vice versa, as citizens of either country are permitted to live and work in the other. And of course, many people choose to live and work in New Zealand for a few years and then move on to explore another part of the world. Hamiltons can provide removals from New Zealand to Australia, back to the UK or to any other worldwide destination.
Removals from New Zealand to Australia(links to main new zealand page)  - click here for full information about international removals from Auckland, Wellington, Christchurch and other New Zealand locations, or click here to get a detailed quote for your move.

About Auckland                             
For 20 or so years in the mid 19th Century, Auckland was the capital of New Zealand, an honour that has since been bestowed upon the city of Wellington. Auckland is still however, considered the nation's commercial capital, with many international companies having their headquarters in the city. The area is home to nearly 1,355,000 people of varying backgrounds including European, Pacific Island, Asian, Māori , Middle Eastern, Latin American and African cultures.
If you require removals to Auckland, the city is one of a very few in the world to have harbours on two separate bodies of water and this goes some way towards explaining the population's love of water sports and why Auckland is known as the city of sails. With around 135,000 vessels, there are more yachts and launches per head in the city of Auckland, than in any other city in the world. Around 60,500 of the country's 149,900 registered yachtsmen come from the Auckland region and about one in three Auckland households owns a boat.
That said, there is more to Auckland than splashing about in the water, much more. You could climb and jump off the Auckland Bridge with a bungee rope or jump from the platform at Sky Tower, 192 metres up if this appeals to your sense of adventure. If you want something less adrenaline fuelled but still packed with excitement, you can go on a whale and dolphin safari or visit the Auckland Zoo. If you are a nature lover or enjoy beautiful scenery, there are organised walks from one coast to the other or, you could spend your time visiting one of Auckland's many beaches and islands. You could go diving at Goat Island or check out the other islands in the area: The Great Barrier Island, Waiheke, Motuihe, Kawau, and Rangitoto Islands all have something a little different to offer as has Muriwai with its huge colony of Gannets, which are big black and white sea birds that plunge into the ocean to catch fish.
Other ways to explore your new surroundings, is to go on winery tours, visit bike parks, go canyoning, ride horses on Pakiri Beach or just be seen on the "K". The "K" is the local name for Karangahape Road: a gritty place that marries London's Brick Lane and Carnaby Street with a bit of Islington and Highgate thrown in for good measure. It's here where you can enjoy the delights of a hundred or so eateries from 5 star restaurants to Auckland's edgiest cafés, ethnic restaurants and food courts. The "K" isn't just about food though – you can discover art exhibitions, musical theatre and dance, handicrafts, live art performances, music and craft markets. The "K" even has its own designer hoodie and website!
For something a bit more "highbrow", head for Viaduct Harbour. Here you'll find café bars and restaurants of the highest calibre. Located in the heart of Auckland City, Viaduct
Harbour is a high quality residential, commercial and entertainment precinct. The marina caters to commercial vessels, pleasure craft and super yachts and can berth up to 150 vessels ranging in size up to 60 metres. The harbour has and continues to host, many famous sailing events including the past America's Cup defences, Louis Vuitton Regattas, the Volvo Round the World Race stop over March 2012, the Auckland International Boatshow and New Zealand Fashion Week.
One way to enjoy spectacular views over the city and Waitemata harbour is to head for its most famous landmark, Mount Eden. This is the largest volcano on the Auckland isthmus and is the city's highest point. If you are planning on visiting the summit, don't forget to bring your walking shoes as coaches no longer go all the way up to the top.

Removals from Auckland, New Zealand - For removals to New Zealand, including removals to and from Auckland, please contact us now to discuss your move or click here for a free removals quote
Shipping to New Zealand Relocation Guide
Shipping to New Zealand Customs Information
Removals to Auckland | Removals to Christchurch | Removals to Wellington