detailed quote
To get a
FREE
detailed quote of your move click the button below and fill out our online Contents of House form.
detailed quote

CALL US TODAY!
0800 246 5622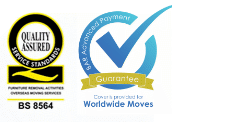 Removals to New Zealand . International Removals . Moving House Overseas
Moving house overseas is more involved than UK house moves, due to import and export laws and Customs regulations, and moving house to New Zealand is no exception - but Hamiltons can help. Our removals to New Zealand service is designed to assist not just with moving your belongings, but with all other aspects of your move, including storage, cleaning, packing and customs paperwork.
Removals to New Zealand - Click here for a free quote for moving house overseas or contact us to discuss your requirements.
If you're moving house to New Zealand it is essential that you understand the customs regulations well before you travel so that you can make any necessary arrangements for particular items such as vehicles or pets - and give you time to sell or rehome some of your belongings if you decide not to take them.
As part of our service to clients moving house overseas we can help to advise you regarding general regulations and specific items - advice which can save you time, fines and heartache.
Below is a guide to the current customs regulations for removals to New Zealand. Please note that the information is correct at the time of publishing but may change at any time. Hamiltons International removals department will guide you through all relevant customs regulations and importing law prior to removals to New Zealand.
If you are not in the country when your container arrives, it is possible to nominate a third party to clear your effects on your behalf. This person must pay a financial deposit to Customs & Excise, which is then refunded once you arrive in the country and present your passport.
You will be entitled to duty free entry providing that you are taking up residency in New Zealand for the first time. Returning New Zealanders that have been away from the country for at least 21 months will also be granted duty free admission. Items that are new may be liable for duty and goods and services tax.
Household and personal effects for removals to New Zealand are subject to physical examination by the Ministry of Agriculture and Fisheries. It is strongly advised that all items that have come into contact with soil and vegetation - e.g. bikes, garden furniture and equipment, golf clubs etc are thoroughly cleaned prior to packing to minimise extra cleaning costs.
Motor vehicles and most boats may be imported tax and duty free by first time residents, providing the owner meets the following criteria: the owner is taking up permanent residence in New Zealand for the first time, the owner has personally used the vehicle for a year or more prior to the departure date, the owner is importing the vehicle for personal use and will keep the vehicle for at least two years after importing. Returning New Zealanders importing a vehicle will be required to pay goods service tax on the CIF value of the car.
To clear your goods through customs we will require the following:
Completed unaccompanied personal baggage form (NQS QD1)
Completed application for client code
Passport copy photo page
Copy of visa
Inventory or packing list for removals to New Zealand (this will be completed by our removal crew)
Quarantine declaration (this will be completed by our removal crew).
Below is a list of documentation required for motor vehicles:
Verified Statement of Compliance
Vehicle registration form
Sales or purchase invoice
Evidence of intended permanent residence in New Zealand
Driving licence.
Restrictions - the following items are prohibited
All food items including eggs, dairy and meat products (alcohol may be imported as long as a full listing has been made)
Untreated wooden items, skins and feathers
Furs and tusks from endangered species
Pistols and revolvers.
Prior authorisation required
Used rifles and shotguns may be imported but require a permit from the firearms officer at the local police station.
Removals to New Zealand - Click here for a free detailed quote for moving house overseas, or contact us to discuss all your requirements for removals to New Zealand.
Click here to download the required customs documentation
Shipping to New Zealand Relocation Guide
Shipping to New Zealand Customs Information
Removals to Auckland | Removals to Christchurch | Removals to Wellington