detailed quote
To get a
FREE
detailed quote of your move click the button below and fill out our online Contents of House form.
detailed quote

CALL US TODAY!
0800 246 5622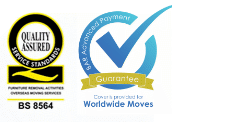 Removals to Wellington New Zealand | International Removals
Hamiltons Removals provides domestic and commercial removals to New Zealand including removals to Wellington, Christchurch, Auckland and other NZ destinations. Our high quality international removals service can be tailored to suit your specific requirements and can include full packing, loading, transporting and unloading or just the movement of your belongings. Whether you require a 20ft or 40ft container, groupage services or airfreight, we provide professional and competitively priced removals to New Zealand with services either from or to the UK, or between most other European and international destinations.
Removals to New Zealand / Removals from New Zealand - click here for full information on our removals to New Zealand service or click here to get a detailed quote of your move
Hamiltons are a member of the trade association BAR (British Association of Removers), The Road Haulage Association and are BS EN ISO 9001:2000 registered. So by using Hamiltons for your international removals to New Zealand, you can rest assured your possessions and valuables are in safe hands.
Removals NZ | International Removals New Zealand
Did you know that more Brits live abroad than any other nationality? And 50% of them choose to live in just 4 countries: New Zealand, Australia, France and Spain. No wonder, then, that when it comes to international removals, New Zealand is one of our most frequently asked for destinations, and within that number are hundreds of removals to Wellington each year (not to mention removals from Wellington for Brits returning home). This experience and familiarity with New Zealand means we are well placed to organise your removals to NZ and give practical help and advice on moving to this stunning country.
Removals NZ / International Removals New Zealand - click here for full information on our removals to New Zealand service or click here to get a detailed quote of your move
About Wellington
Championed as New Zealand's Capital of Cool, Wellington really does live up to its name. With galleries, museums and theatres aplenty there is no shortage of outlets for the cultural, arty types and no shortage of cultural, arty types to do it. This bohemian appeal is embraced by its restaurant and café dining set who delight in the offerings from Courtenay Place and Cuba Street.


Wellington is well known as a culinary capital and is famed for its tucked-away bars, quirky cafés and award-winning restaurants serving up curly fries and really, really good coffee. The shopping here is great too - head for Lambton Quay, Cuba Street and Willis Street for fabulous jewellery stores and fashion boutiques. You may even see some familiar high street names as you wander round - Borders Books is there, for one.
From culture to coffee or music to movie-making, Wellington's sights and sounds will leave you wanting more. This is, after all, where Peter Jackson, the director of Lord of the Rings, made most of his films. And if you're the outdoorsy type, the good news is that there's loads of adventure to be had. The harbour and surrounding hills present some fabulous walks or you could just lay back and relax on Oriental Bay, Wellington's golden-sanded inner-city beach.
Removals to Wellington New Zealand / Removals from Wellington New Zealand -  click here for a free removals quote
From central Wellington you can easily access the surrounding areas of Hutt Valley, Wairarapa, Porirua and Marlborough. The Hutt Valley was New Zealand's first organised settlement and as a result, is crammed with history and ancient Maori mythology just waiting to be discovered. There is a wealth of art galleries and cafés to enjoy and for nature lovers, there is a network of forest trails waiting to be explored.
Wairarapa is one of the country's finest wine regions. You can find it right at the heart of the New Zealand Wine Trail and it is a region of expansive skies, wide valleys and charming little towns. Wairarapa blends the countryside idyll with luxurious retreats, olive groves, delightful vineyard cafes, award-winning restaurants and of course, premium wines.
On the other hand, Porirua is all about action and adventure and a lot of it involves water. It is a relaxed region where the emphasis is very definitely on fun. For the active, there's quad biking and hiking, cycling and mountain biking available as well as water sports like kayaking and wind surfing. The city overlooks a stunning harbour and has 54 km of coastline just waiting to be discovered.
If you are planning on settling in the Wellington region, the city of Porirua offers a fantastic work-life balance that so many people seek these days, but rarely find. The city is a great place to raise a family. Your kids can walk or bike to school safely and play in the parks and sports fields. Families with either younger or older children can enjoy walkways, cycleways, parks and playgrounds as well as water sports on the Harbour. And for the adults, there is plenty of fine shopping and dining available in town.
Marlborough is world famous for its Sauvignon Blanc but it is also one of New Zealand's most innovative, vibrant and successful regional economies. There is a great deal to do here from swimming with dolphins to kayaking or enjoying a scenic boat tour. If you like your feet firmly on the ground however, other activities to get involved in the Wellington region of the country include visiting formal gardens or hiking through the native New Zealand bush.
Removals to New Zealand / Removals NZ -  click here for a free removals quote
Shipping to New Zealand Relocation Guide
Shipping to New Zealand Customs Information
Removals to Auckland | Removals to Christchurch | Removals to Wellington